Root Canal Treatment – Flower Mound, TX
Alleviate Your Tooth Pain. Restore Your Beautiful Smile.
At your biannual checkups, Dr. Barge conducts detailed oral exams so that decay and damage are caught in the initial stages – before more extensive restorative care is needed. With that said, sometimes cavities can develop quickly, penetrating to the inner chambers of your tooth in a matter of months. When that happens, we need to intervene with root canal treatment before a tooth extraction becomes necessary. Don't worry – despite what its reputation would have you believe, the procedure is painless!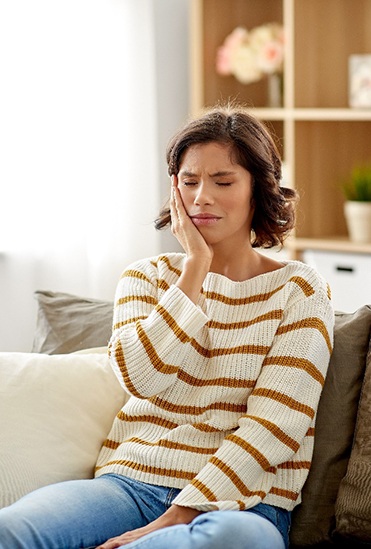 Why Choose Dr. Lauri Barge for Root Canal Treatment?
Same-Day Emergency Appointments
Sedation Dentistry Available
Several Financial Solutions Available
Do I Need Root Canal Treatment?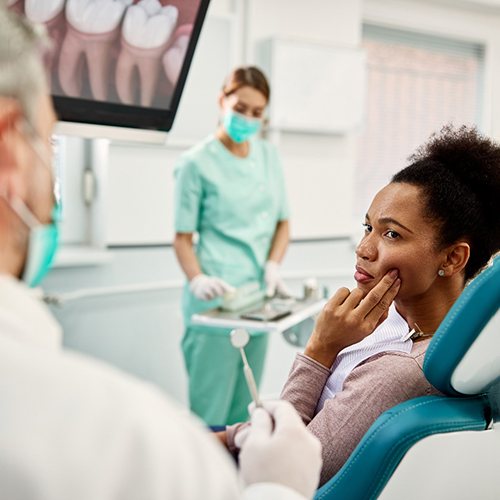 There are a few common warning signs that you should look out for, including:
Persistent tooth pain
Discoloration on your tooth
A pimple-like bump on your gums
Sharp discomfort when biting down
Red, inflamed, or bleeding gums
If any of these arise (or it's been more than six months since your last checkup and cleaning), you should schedule an appointment with our Flower Mound emergency dentist. That way, she can examine the condition of your oral health and determine what the next best steps are.
The Root Canal Process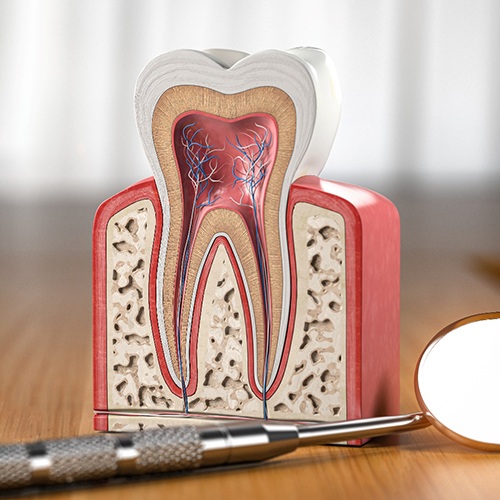 For many patients, having an idea of what to expect during the procedure can help alleviate some anxiety. Of course, if you're getting nitrous oxide sedation or oral conscious sedation, then your appointment will begin with the necessary steps to ensure that you don't feel an ounce of stress in the treatment chair. Even if you aren't getting sedation dentistry, however, we will thoroughly numb your mouth. That way, you don't feel anything more than some slight pressure from our team working.
Once you are numbed, Dr. Barge will make a tiny hole in your tooth to access the inner chambers. Then, we will remove the infected tissue, sanitize the area, and fill the tooth with a warm, rubbery substance to prevent bacteria from getting inside. Lastly, we will place a dental crown over your treated tooth, which will improve its strength and appearance.
The Benefits of Getting a Root Canal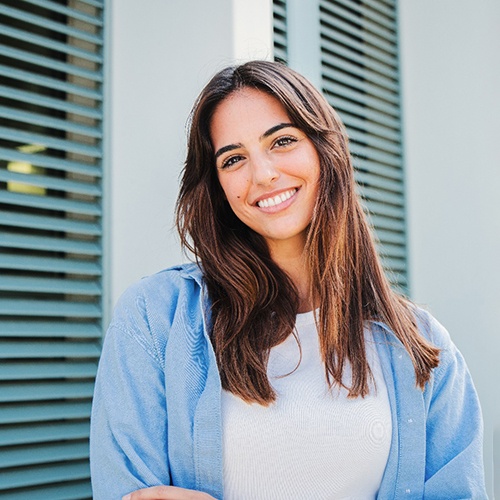 As we mentioned at the very beginning of this page, root canal treatment is essential because it helps save your natural tooth – that's a massive benefit! Outside of that, there are several other perks, including that the restorations are extremely lifelike, the procedure is painless, and the results can last for decades with proper care.
If you have any questions about root canal treatment – even if you want to just learn more about sedation dentistry – please don't hesitate to contact us. We're here to help!