Advanced Dental Services & Technology – Flower Mound, TX
Precise, Detailed, Comprehensive Dental Care
Dr. Lauri Barge and our team are committed to offering our patients the best-of-the-best. We utilize the latest and most reliable technology in our dental office to offer detailed treatment plans, accurate diagnoses, and long-lasting results that our patients can rely on. Whether you're planning on visiting our dental office for a routine checkup and cleaning or a more complex treatment like dental implants, our technology allows us to offer truly comprehensive dentistry. You can read more about the gadgets that we utilize in our dental office below.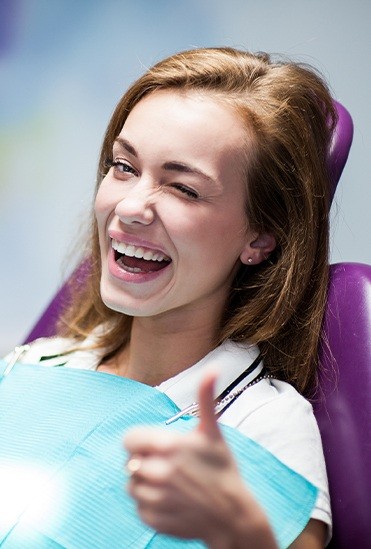 Intraoral Camera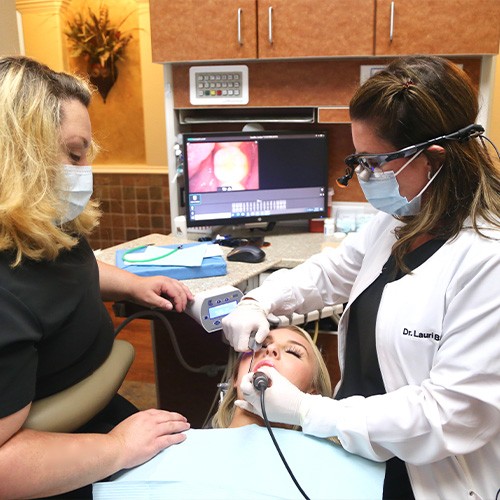 Our intraoral cameras are small, handheld devices that help Dr. Barge and our team get an up-close and detailed look at hard-to-see nooks and crannies in your mouth to spot even the smallest and most difficult to see problems. It's a pen-shaped device with a camera on the end that can capture video footage and still images that help us better explain any diagnosis we make and how our recommended treatment plan can help you.
Digital X-Rays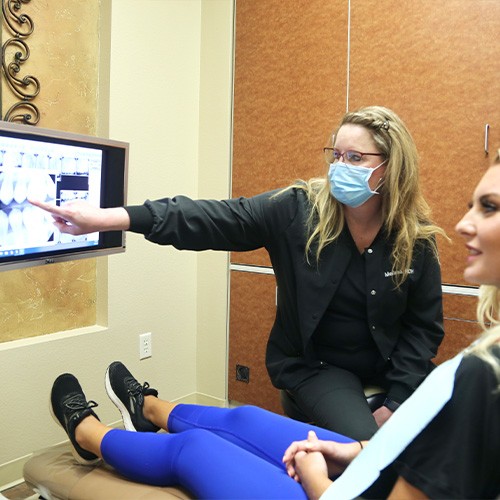 Film X-rays that utilize chemicals that are harmful for the environment, take awhile to develop, and cause checkups to last longer than necessary are a thing of the past. Instead, we utilize a digital X-ray system that works similarly to a camera. After snapping images of your mouth, Dr. Barge will be able to immediately review them on a monitor. Our team is able to view the area below the gumline, helping us diagnose hidden problems like impacted wisdom teeth, infections, and cysts and tumors.
Digital Impression System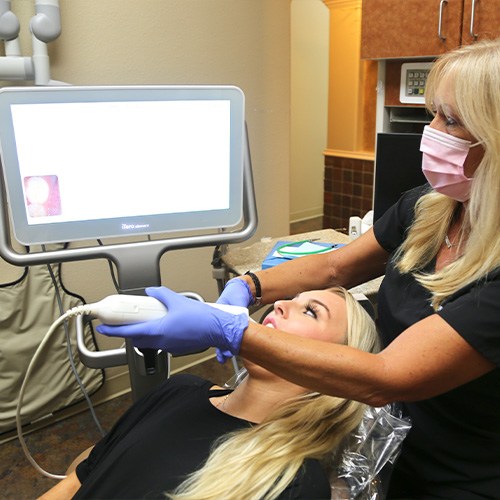 Instead of using putty impressions to craft mouthguards and create restorations, we utilize a more precise instrument, called the iTero digital impression system. It's able to create a digital blueprint of a single tooth or your entire mouth that we're able to send off to our dental laboratory to create your appliance or prosthetic. Due to the amount of detail that it's able to capture, the laboratory can craft more perfectly-fitted crowns, bridges, mouthguards, and other restorations.
Soft Tissue Laser Dentistry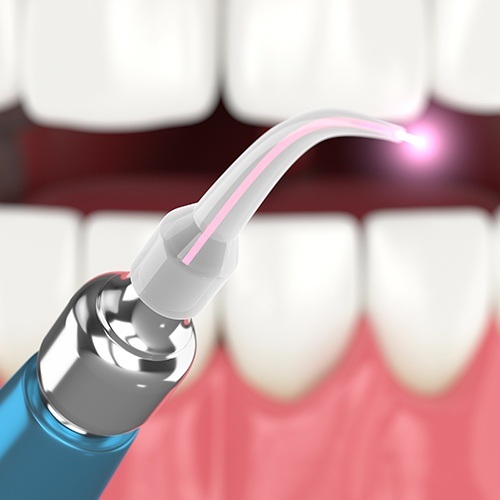 The Sirona soft tissue laser is a neat device that eliminates the need for a scalpel and sutures during procedures like gum recontouring and frenectomies. The device is small and emits a concentrated beam of light that can kill bacteria and remove overgrown tissue, all while cauterizing the area on-contact. This feature minimizes bleeding, reduces recovery time, and helps prevent infections from occurring as you're healing.