Dental Implants – Flower Mound, TX
The Modern Solution for Tooth Loss
Replacements for missing teeth have big shoes to fill, because there's nothing that can quite compare to home-grown pearly whites. Our team at Lauri Barge, DDS offers the closest alternative to natural teeth, called dental implants in our Flower Mound, TX dental office. This treatment allows us to restore the entire structure of missing teeth from the ground, upward—allowing patients to enjoy both aesthetic and functional benefits that distinguish this procedure from all of the rest.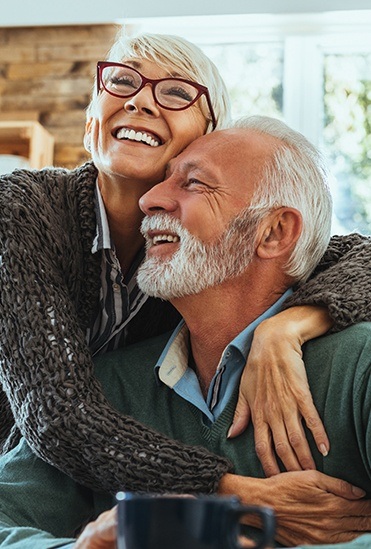 Why Choose Lauri Barge, DDS for Dental Implants?
We Accommodate Anxious Patients
Experienced & Friendly Dental Team
In-House Dental Plan Available
What are Dental Implants?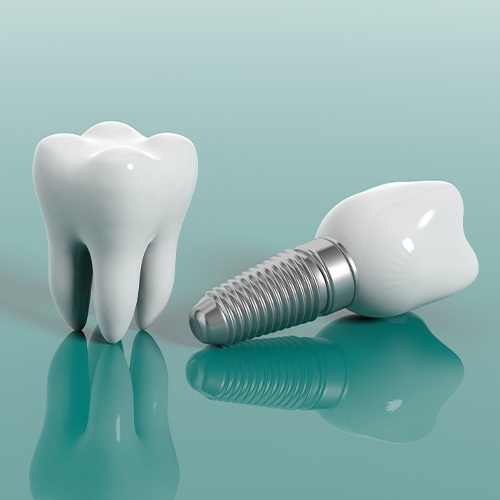 Dental implants themselves are small, titanium posts that are surgically placed below the gumline to replace the root structure of one or more missing teeth. Due to the fact that they're made from a biocompatible metal, they're able to undergo a process called osseointegration, where they fuse with the jawbone. This allows them to function exactly as your natural roots did. After you've healed, our team will restore the visible portion of your smile by attaching a dental crown, bridge, or denture to the implants to secure them in place.
The 4 Step Dental Implant Process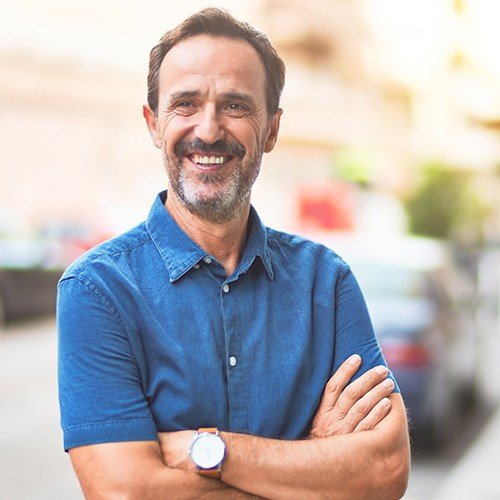 Every dental implant treatment varies from patient-to-patient because it's customized to fit each unique person's needs. However, there are four steps that every patient can expect to experience throughout the process, including:
The Initial Consultation. During this initial visit, our team will help determine whether dental implants are right for you. We'll take X-rays and outline a treatment timeline so you know exactly what to expect throughout the process.
Dental Implant Surgery. Barge partners with expert oral surgeons in the area to provide the best possible results.
Osseointegration Period & Abutment Placement. Once your implants have been placed, you'll heal and undergo a process called osseointegration, where they'll fuse with your jawbone. Then, we'll attach small, metal connector pieces called abutments to them.
Securing the Permanent Restoration. When we receive your final restoration, we'll call you back in to attach it to your implants and complete your smile.
Benefits of Dental Implants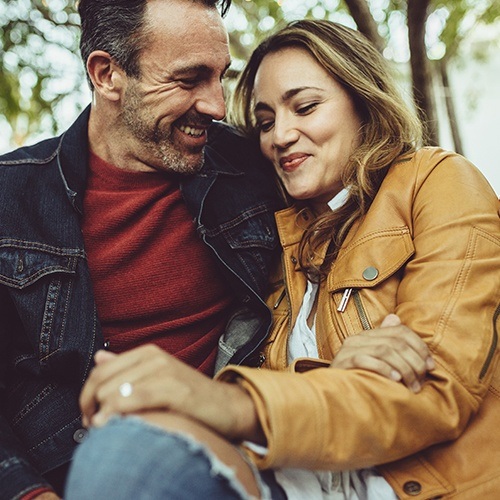 Dental implants offer a wide array of benefits that make them a popular tooth replacement option among patients. Some of the advantages that you can enjoy when you restore your smile with this treatment include:
Lifespan of 35+ years
Easy to maintain
Prevention of jawbone erosion
Preservation of the facial structure
Enhanced chewing and speaking abilities
No alteration of healthy teeth required
Replace one, several, or all teeth at once
Who Can Dental Implants Help?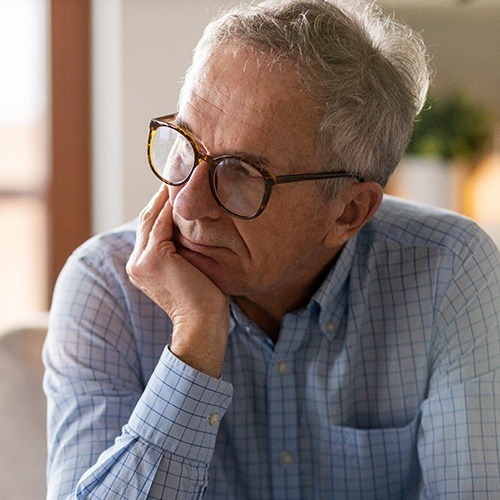 Not every patient is a good candidate for dental implants; however, that doesn't mean that they can't get there! Some patients require preparatory procedures to ensure the success of the osseointegration process, like a bone graft, sinus lift, or periodontal therapy. Once your gums are healthy and you can successfully undergo the placement process, our team will outline the rest of your treatment for you, including how we're going to restore your smile.
Missing One Tooth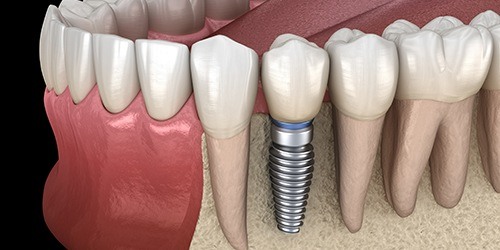 For a single missing tooth, we'll place one dental implant below the gumline. Once it has fused with the jawbone and the gums have healed, we'll place an abutment that will secure a customized dental crown that will fill the gap in your arch.
Missing Multiple Teeth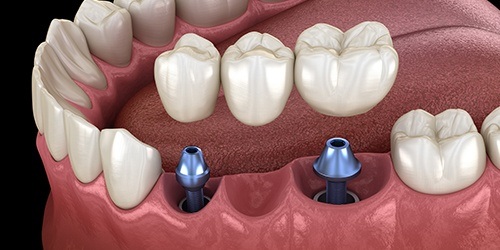 If you're missing several consecutive teeth, we will secure a customized dental bridge to two dental implants instead of existing teeth, like what would be required if you received a traditional bridge. This extends the life of your restoration and health of your natural smile.
Missing All of Your Teeth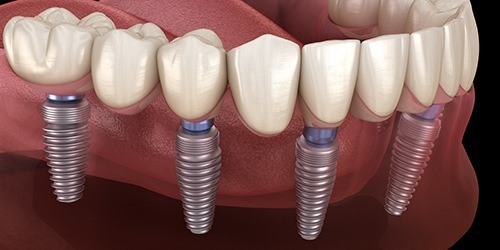 Instead of investing in a traditional denture that can shift and slip in your mouth and won't keep your jaw from eroding, we offer implant dentures. These are dentures that are secured to anywhere from four to eight dental implants that are strategically located along the arch of teeth.
Learn More About Implant Dentures
Understanding the Cost of Dental Implants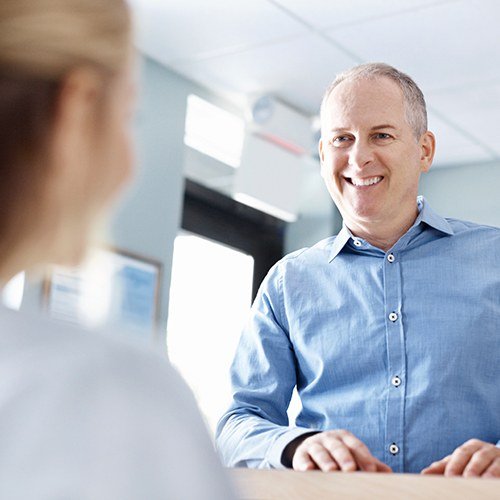 The dental implant procedure is customized from start-to-finish to help individual patients meet their unique needs. That's why there's no singular price tag attached to the procedure. How much you pay to receive dental implants will depend on a variety of factors, including whether you require preparatory procedures, how many dental implants you need to have placed, and what type of restoration you require to restore your smile. We'll outline these details, along with the overall cost of the procedure, at your initial consultation so you know exactly what to expect.
Maintaining & Caring for Your Dental Implants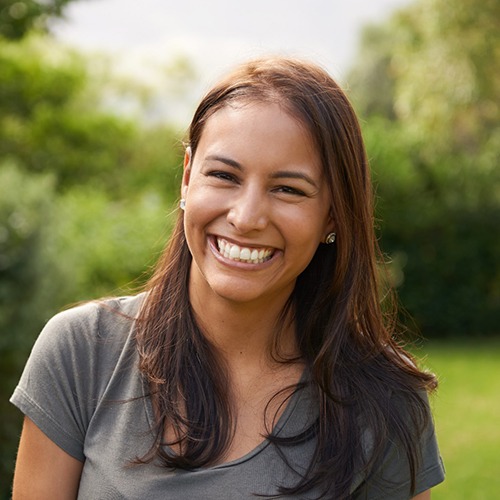 Dental implants can help you enjoy a strong, dazzling smile for the rest of your life, but they'll only last that long if you're taking proper care of them. While implants do have a high long-term success rate, they can still potentially fail or need to be replaced if they're badly damaged or if the tissue anchoring them to the jaw becomes infected. There are, fortunately, some simple steps you can take to protect your newly rebuilt smile so that it lasts as long as possible.
Make Oral Hygiene a Priority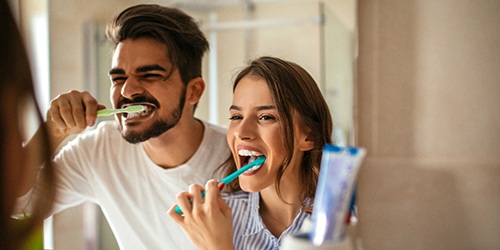 Even though dental implants can't get cavities, cleaning them regularly is crucial for preventing gum disease, which is a common cause of dental implant failure. As such, sticking to your daily dental hygiene routine is more important than ever. You should be brushing and flossing your implants twice a day – just like your natural teeth. You should also start rinsing with antibacterial mouth rinse to clean the parts of your mouth that can be difficult to reach with a toothbrush.
Eat a Healthy Diet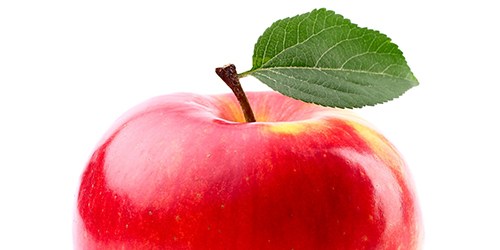 You're free to eat whatever you want with dental implants, but be wary of hard or sticky foods that could damage your posts as well as sugary foods that could put you at risk for gum disease. You should make sure that your meals and snacks consist of plenty of foods that are good for your smile and can help your implants last a long time. For example, foods that are high in calcium and vitamin C help strengthen your jawbone and keep your tissues healthy.
Break Bad Habits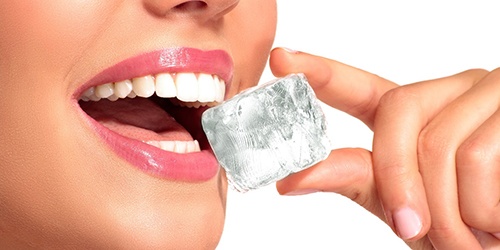 Chewing fingernails, crunching ice, opening packages with your teeth, and biting overly hard objects such as pen tips can all potentially cause dental habits to break and fail. Protect your new teeth by putting a stop to these habits as soon as possible. If you smoke, you'll be told to stop before and after your implant surgery; tobacco interferes with the body's ability to heal around the implants, and it can make your mouth more vulnerable to an implant-threatening imperfections.
Protect Your Dental Implants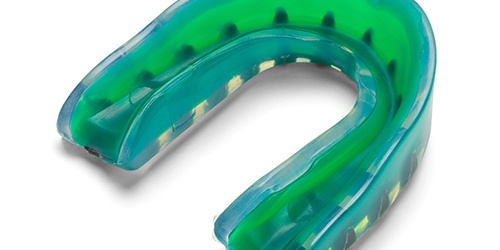 Even though your dental implants are strong, they can still be damaged in an accident. When you play sports of any kind, be sure to wear a mouthguard in order to keep your dental implants safe along with the rest of your smile. Also, if you grind your teeth at night, you should invest a nightguard to ensure that your implants aren't damaged while you sleep.
Schedule Regular Dental Checkups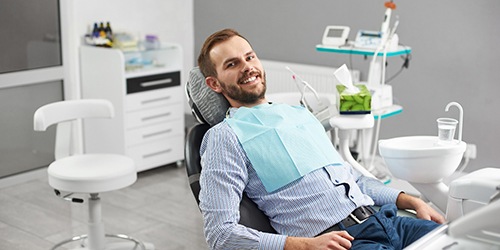 Visit our office every six months for a regular checkup and cleaning. We'll be able to check for any issues with your dental implants that you may have overlooked on your own. If there is something wrong, we can take care of the problem before it puts your dental implants at risk.
Dental Implant FAQs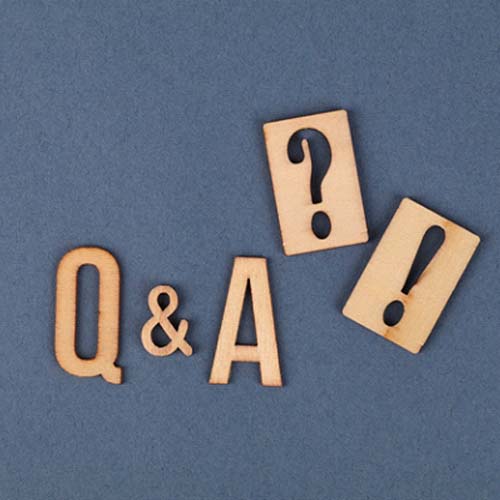 Dental implants in Flower Mound are a lifelong commitment. It is normal to have some concerns before moving forward with the treatment. Don't worry, Dr. Barge will explain everything during your dental implant consultation. While you wait for your appointment, here are the answers to a few frequently asked questions to ease any apprehensions.
Can I take dental implants out?
No, only a trained dental professional can remove them, such as if failure occurs. A dental implant is unlike any other prosthetic because it replicates both the crown and root. Your jaw will fuse to the post through a process called osseointegration. Therefore, you can't take out the post; however, some implant dentures are removable for easy cleaning.
How long do dental implants last?
A dental implant can last for 30 years or more, but various factors affect the lifespan, like the location of the post. The back teeth undergo more wear and tear than the front, so they may have a slightly shorter lifespan. Your oral hygiene habits and lifestyle are crucial to ensuring your replacement tooth lasts for decades. Routine cleanings and checkups with your dentist will safeguard your smile from preventable complications, like an infection. Your implant dentist in Flower Mound, Dr. Barge, will advise you to avoid anything that can damage your dental implant, like eating hard/sticky foods, using your teeth to open packages, or smoking.
How successful are dental implants?
Dental implants are the most reliable method of treating tooth loss. They have over a 95% success rate with the right maintenance, like brushing, flossing, and using a daily mouthrinse. Besides keeping your mouth clean at home, schedule semi-annual cleanings and checkups. Dr. Barge will recommend protecting your dental implants from unnecessary pressure, so you'll need a nightguard if you have a habit of grinding or clenching your teeth. You'll need to wear an athletic mouthguard if you play sports. Eat chewy or hard foods in moderation. Cut them into small pieces, so they are easier to chew. You should also break any bad oral habits, like biting your fingernails or using your teeth as tools. With a proactive approach to protecting your dental implant, your new smile can thrive for a lifetime.
What should I do if my dental implant feels loose?
Your dental implant should never feel loose after your jawbone has fully integrated with the post. If your prosthetic tooth is a little wiggly, it can be a sign of a serious problem that can lead to dental implant failure. You don't want to wait to see your dentist. In some instances, the problem may be minor, like a loose restoration, while more severe cases can be caused by bone loss or infection. If you notice any signs of dental implant failure, contact our office right away, like pain, redness, or swelling. If you wait to schedule an appointment, it may be too late for Dr. Barge to save your dental implant.